Student Spotlight: Meredith Bryant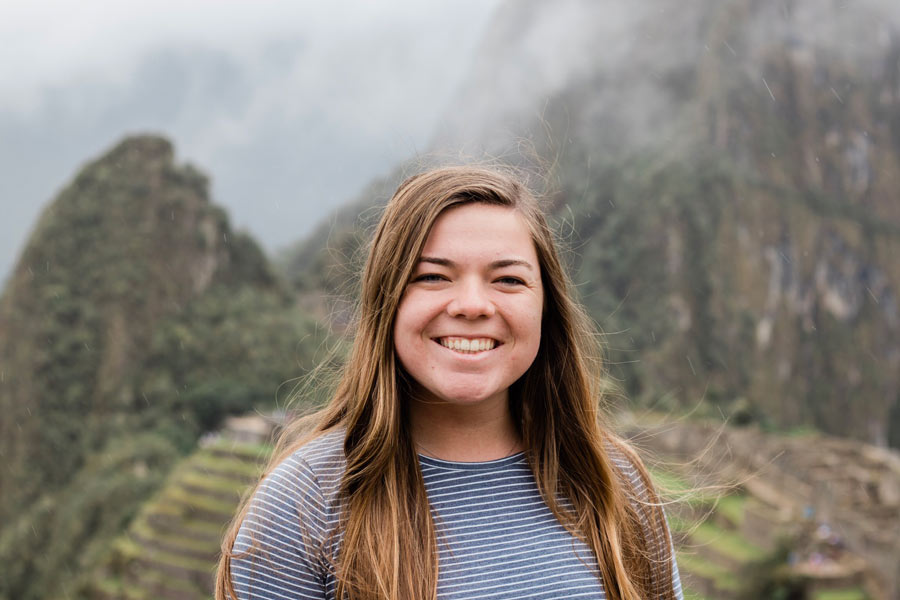 After returning from Peru, I can honestly say it was an experience that was once in a lifetime. From the time that we flew into the capital of Lima to the time we left the country we had intimately seen seven different cities or places in 11 days either by train, bus, or plane. Each place we visited was very different from the one before.

One of my favorite experiences of the trip was a weaving demonstration by some women in a village in Cuzco. I didn't expect to enjoy it as much as I did but after walking away I was amazed at what I had just seen and been a part of. This group of women is preserving their culture by weaving these beautiful pieces and teaching other women in the village so that this art does not die with age. The whole process from sheering the fur to dying the string to the completed piece is a completely natural and organic process with no chemical dyes or machinery. I loved seeing this sustainable process that not only creates extraordinary pieces such as bags, rugs, or table runners, but also keeps their culture alive and teaches many generations to come.

When looking at all this trip has to offer, one would assume that Machu Picchu would be the best part of the program considering it is one of the Seven Wonders of the World. Don't get me wrong; Machu Picchu was breathtaking and awe-inspiring. But Peru as a whole has so much to offer in the realms of cuisine, architecture, farming, and so much more. We saw the Lima coast, the Andes Mountains, and the Amazon rainforest. All of that and everything in between was just as fascinating as the great Machu Picchu. The "little things" of the country touched our hearts just as much as all of the Incan ruins that still stand today from so long ago.

I will always remember my experiences in Peru, from cooking in a local's home, to seeing so many Incan ruins and temples, to riding hours in a bus just gazing at the beautiful Sacred Valley, to walking through Peruvian markets. Studying abroad truly changes you as a person. I learned so much about this Peruvian culture and what they have to offer the world. It has given me a greater respect for the people of Peru and the many industries. This experience has broadened my horizons and made me more open to places and cultures I could see myself working with. It is always important to allow your experiences abroad to impact your ways of thinking and doing things. This trip has given me the travel bug once again and I can't wait to see where I go next!