A Piece on Fijian Spirituality
By: Hailee Walls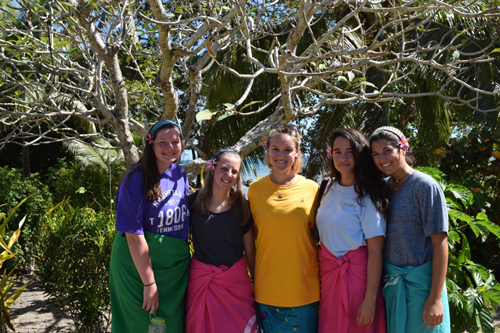 Do the beliefs and traditions of the primitive Fijian people really differ that much from our own? Here's a glimpse into how Fijians mix modern Christianity with a little bit of traditional island juju.

This summer I was fortunate enough to live on Vorovoro, one of the many Fijian islands dotting the vast Pacific. Completely immersed in their culture for four weeks, I was able to learn a great deal about the Fijian way of life and way of thinking, from how they cook, how they make medicine, how they worship, to how they enforce hierarchies. But one thing that interested me the most and captured my attention more quickly than anything else was whispered talk about "island juju." My first encounter with this kind of talk occurred when one of the villagers told me not to mess with the sea snake because it was "bad juju." Now, in case you don't know, the black and white striped sea snake is notoriously known for being one of the most venomous snakes in the world. However, the people of Fiji act as if it is nothing more than a slug crawling across the shore. Naturally, I was inclined to know more. What is this juju that they speak of and why are these people so unalarmed by this dangerous creature? Do these people believe in witches? Black magic? Ghosts? With all of these questions overwhelming my mind, I set out to find an answer, and here is what I found…

Fiji's history of spirituality and religion is a rather interesting one. It wasn't until the '70s when the Methodists came over and told the Fijian people to put on clothes that they finally found faith in God and accepted so-called Christianity. At that time they were still a superstitious people, grounded in their primitive, cannibalistic roots. Missionaries before spoke without success, mainly because other religions did not embrace the Fijian traditions such as hierarchies. However, today many of the Fijian people go to church regularly and they have replaced many of their superstitions with the Bible and prayer. Methodist is by far the most popular religion, but the Revivalist, which is really similar to Pentecostal, is increasing in popularity. A Fijian church service is very simple. Often, it is in someone's house or in the middle of a village – no doors, windows, or pews. Removing your shoes and sitting on the floor for several hours is very common. But don't worry… the angelic choirs easily make up for the discomfort.

Although most Fijians practice Christianity, many still believe in ghosts and the power of voodoo. In fact, many still give their children leaves from the uci plant at night because it is believed to ward away bad spirits and to help calm crying babies. According to Fijian beliefs, children can see ghosts and evil spirits more clearly than their elders.

With that being said, it's not extraordinary to believe in ghosts. There are ghost tales in almost every culture. But is there a darker, more unfamiliar side to Fijian spirituality – one more unfamiliar to us here in America? What if I told you there were witches?

In Fiji, when a child is born, he is born into a status and he carries certain predetermined responsibilities. Once a child is born into this status, it's hard to become anything else. In each village, there are twelve rankings. The top rankings include the chief, the villager representatives, those who appoint the chief, royal messengers, witches, ceremony guards, fishermen and carpenters. These men make up the Parliament. As can be seen, the fifth ranking belongs to the bete, which can also be called the witchdoctor.

Traditionally, men hold this position because it requires a lot of energy and women aren't exactly capable of this kind of strength. (Fiji is not extremely concerned with feminism.) Before Christianity, the bete was crucial to the village because witchcraft was the only way people got what they wanted. The chief would seek out the bete when he needed to make a big decision or whenever the village was going to war. Back then, the people worshiped vu, or idols, and the bete worshipped two – the aluve and daku waga. The aluve was the man spirit, for whom the bete would prepare a meal when he was in need of a prophecy. If the aluve accepted the food, he would prophesy to the bete and the chief would win the war. On the other hand, the daku waga was the spirit of the sea (the sea snake!), hence why the people warned against messing with them. If misfortune struck the island, they would send offerings into the ocean, hoping the tide would take the misfortune back to where it came from.

Today, there are still betes who work for the chief when needed. However, there are also hypocritical witches that practice the more selfish, dangerous kind of black magic. These people's actions are mostly fueled by anger, jealousy and hate and, therefore, often cause more harm than good. As a matter of fact, Tui Mali, the chief who hosted our class this summer, would not accept food from other villages before our arrival because he feared the food would be tainted with juju. He feared others would be jealous of his success.

Interestingly, one way Fijians protect themselves against this kind of produced evil is by surrounding their homes with a perfect unbroken circle of salt. Salt will also ward off evil spirits on the grog mat, where Fijians spend a lot of ceremonial time. If a man is suspected of bad intentions while on the grog mat, salt is mixed with his kava, and he will soon flee the mat. Who knew salt had such power?

Indeed, Fijian culture has come a long way since its beginnings and most of that progress has only taken place quite recently. Much like us, they are divided in their beliefs and ostracize each other based on religion. The main distinctions are that they worship much more simply than we and they rely much more on a sixth sense, intuition, and superstition. Really, the Fijians have managed to grow in their beliefs without completely forsaking their origins, and I think there's something to say about that.