Cultural immersion makes study abroad experience incredibly valuable to students

During the Summer of 2015, Auburn students Autrey Eastman and Katherine Chacon spent 10 weeks in Port Alfred, South Africa at Stenden University, where they joined their South African, Dutch and German peers studying community development.

Dr. Adrienne Duke accompanied the students to Port Alfred and acted as an advocate as the students worked the alongside the other students and , problem-based learning modules and community outreach projects designed to take advantage of the deep history and culture of the region.

As well as participating in in-depth cultural experiences and class modules that are specific to their area of study, students have a unique opportunity to interact with professors on a more personal level.

"I was able to have deep conversations with students in a way you can't in class. It's great to be in a setting where you can have a dialogue," said Dr. Adrienne Duke.

"Getting to know [Duke] in a non-classroom setting allowed me to see how her personality and experiences all wrap into her own beliefs and why she does the research and work she does," said Katherine Chacon.

As in any cross cultural experiences there were challenges, but these real life issues brought a new level of understanding and reality to the idea of problem-based learning.

According to Chacon, "the students here are used to welcoming in different cultures and made sure we felt comfortable while we were here… Sometimes the German and Dutch students forget to speak in English. At times while meeting in groups for class, they just find it easier to talk in their first language while talking about a bigger issue, so there are times I'm a little behind on what is happening."

"Even though it's been a challenge, they've had to problem solve in a way they never have before," said Duke. "You have to develop initiative and stand up for your ideas. It is initially difficult, but at the end of the day it promotes growth and development."

The students took excursions to Addo, SA where they visited Addo National Elephant Park, Daniell Cheetah Project , Born Free Foundation and Adrenalin Addo . In Capetown, SA, they visited Table Mountain, Cape Point and Boulder's Beach. There is also opportunity to visit Robben Island, The prison island where Nelson Mandela was held for the majority of his political imprisonment.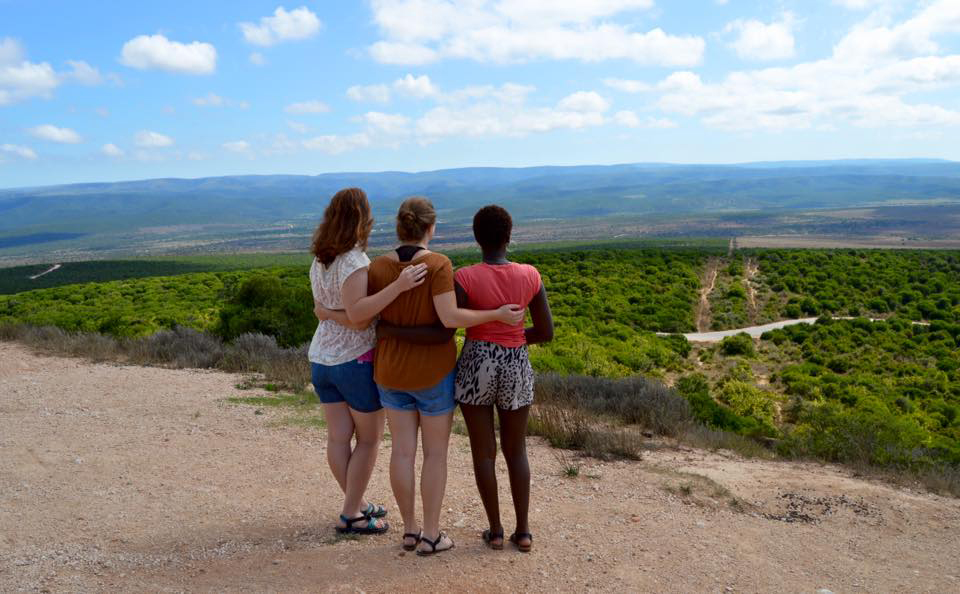 As well as excursions around the country, the students participated in self-led volunteer experiences in the local townships. Eastman volunteered at a literacy program at an after school program in a local township. And during the spring of 2016, Taylor Anderson, Kelly Baker, and Katie Rhodes also experienced life and volunteering in South Africa. Baker and Rhodes helped the students at a school in Kuyasa Township start an environmental awareness club, based on the interests of the students. The school students then initiated litter pick-ups, a community garden, and fundraising events. Anderson spent her time volunteering in a local pre-k program. One of her biggest challenges was interacting with young students who didn't speak English.

But cultural exchange goes both ways, and while they were living in South Africa, Anderson, Baker and Rhodes treated their fellow Stenden students to a traditional southern meal: fried chicken, macaroni and cheese, green beans, and cornbread.

This cultural immersion model makes a study abroad experience incredibly valuable in the life of a student. Students find that culture isn't just about food and language, it seeps into every part of life, from how classes are structured, how to interact with fellow students and how the history of a region impacts the present.