Call Me Ishmael
By: Katie Brown, Senior in Polymer and Fiber Engineering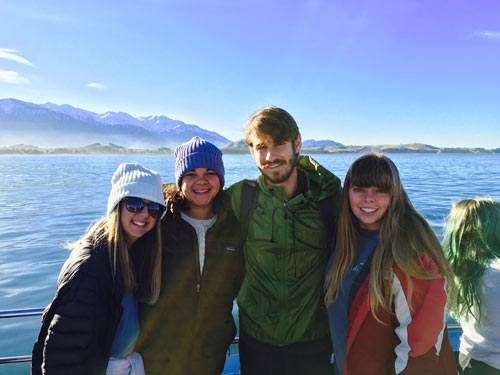 I want to share a special place with the world. Nature flourishes best when left untouched, so I aim to show how to tour a spectacular natural environment without hurting it.

Nature can be boring sometimes. Let's be honest. Documentaries about nature or animals aren't thrilling TV options to the average public. Bird watching is probably not your top pick when you vacation. There's something to appreciate about even the most boring aspects of nature, but it can leave you feeling underwhelmed.

I assumed that when I was going on a whale watching tour with my study abroad group in New Zealand, I would find it to be boring. I wanted to go on the excursion, but I had heard of others going whale watching in other countries and hating it, so my expectations were pretty low. After all, we were in the small town of Kaikoura, New Zealand. How great could a tour like this be if it was in this weird, off the grid town?

Luckily, my instincts were dead wrong.

That morning, we drove to the whale watching tour headquarters. We watched a safety video and were on our way to see some whales. We boarded a catamaran and headed out to the Kaikoura Canyon, where whales typically show up. We were looking for Sperm Whales during our tour. Sperm Whales can hold their breath for up an hour and a half on a single dive to hunt for food! After they eat what they want, they surface for about 10 minutes to breathe, then dive back down. So on a whale watching tour, you are observing a surfacing whale, with the goal to see it dive down (hopefully, with a tail flip!). On the tour, they know when certain whales are about to surface because they track some whales, but additionally, if you see a surfacing whale at random, they drive the boat over to it! It was just a cool experience to be looking for wildlife in their natural habitat.

So we pull up to the first whale and everyone floods to the side of the boat to get a better view. I was blown away by the scenery! Kaikoura is located on the coast (as you could guess) of the South Island, but also has an awesome backdrop of the Southern Alps! Snowcapped mountains and incredible marine life, all in one town! The whale was just blowing water and hanging out next to the boat. What a surreal moment! I will note that you can't actually see how big the whale is just from it surfacing. You can see some of its head, but you don't typically get to see the full whale on a tour like this. I didn't mind much, but it is something to be aware of. After the whale hung out for minute, it started to go under! I got so excited in anticipation for that whale's tail! All of sudden, the tail raises up out of the water, and flips as the whale emerges into the deep! IT WAS AWESOME.

We got to see over 3 Sperm Whales and 1 Humpback whale on our tour. What a wild ride. I truly enjoyed each encounter! After the whales, we started heading back to dock. However, we had some fun surprises along the way! We looped around a seal colony on some rocks! There were hundreds of seals just chilling, getting some shut eye. It was awesome to see them up close. Then, as we left the seal colony, the captain stopped the boat! We were curious as we head outside and alas! Hector's Dolphins jumped out of the water next to us! They are so rare and small! How wonderful is that?

The coolest part about our tour was that while we got to see some incredible wildlife, we didn't hurt or disrupt their pattern of life. We went to observe, that was all. The tour guides didn't feed the wildlife or bait them to come see us, everything was natural and that made it even more special.

Apart from the tour, Kaikoura has become my favorite place on the planet for its natural beauty. The sunrises were amazing to watch at the foothills of the Southern Alps! The road on the way to Kaikoura was lined with black sand beaches with a mountainous back drop. The scenery and wildlife truly took my breath away. I left the small town with more respect for sustainable tourism and have a new found love for seals!