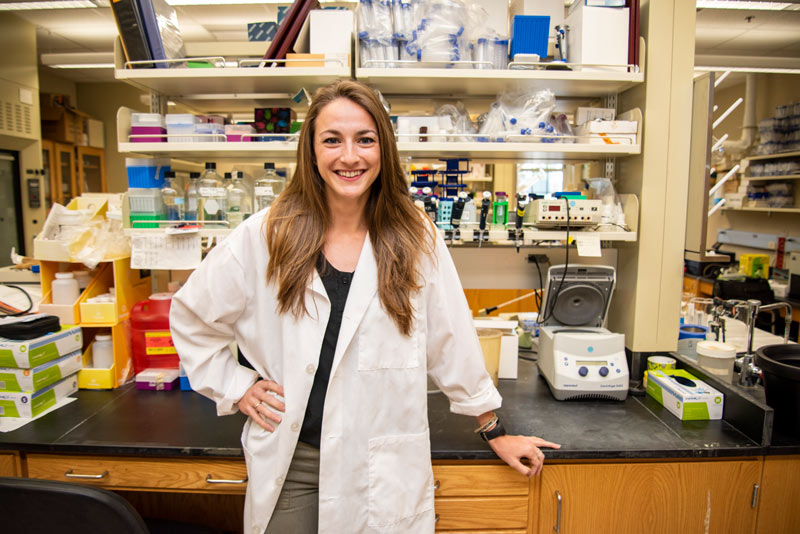 File Photo | Nutrition Science graduate student Lauren Woodie in the Lab.
A collaboration between the College of Human Sciences and the Harrison School of Pharmacy has created a fast track to pharmacy school through nutrition science undergraduate study.
To become a pharmacist through the CHS nutrition plan of study, students will take only three years of undergraduate classes before starting professional training at the Harrison School of Pharmacy.
Student Services Coordinator Linda Bruner said the philosophy of pharmacists providing patients with overall wellness care pairs well with what nutrition science undergraduates are learning in CHS courses.
"Our Nutrition Science undergrad is a great foundation for pharmacy school because the students are learning how nutrition and food affects our bodies, about illness prevention," Bruner said. "So we're adding more incentive to use nutrition science as a stepping stone to this new professional opportunity in pharmacy." Dozens of CHS students are in a pre-health plan of study, such as: medical, dental, optometry, physician assistant, physical therapy, chiropractic, OT and pharmacy studies. The 3+4 pharmacy plan presents those enrolled in pre-pharmacy studies an accelerated option to begin their professional careers.
Nutrition Professor Kevin Huggins said pharmacists are giving more and more wellness advice to patients, and this track will help them better utilize nutrition information. The students will be taught nutritional biochemistry and metabolism, vitamins and minerals, nutritional genomics and a course covering nutrition throughout the life cycle. They will also enroll in courses to guide them in patient interactions.
"Students will be exposed to sociology and psychology due to the fact that their profession will include interactions with patients. Of course, ethics is a major topic in any health care profession," Huggins said. "Exposing students to these disciplines makes them a more well-rounded person and healthcare provider." Huggins said this program will be rigorous as any Auburn program, and students should not consider this an easier academic route. He said there will also be numerous professional development and opportunities during their undergraduate years.
"Faculty are conducting research in the areas of obesity, diabetes, Alzheimer's disease and cancer. In addition, we have nutrition-specific study abroad opportunities, including a Mediterranean diet trip to Italy that focuses on the various aspects of the Mediterranean diet and how it may impact health," Huggins said. "Our students also interact with the nutrition advisory board. Here students can get personal advice concerning shadowing and training opportunities as well as help with resumes and personal statements for applications."
During their junior year, students will begin to apply to pharmacy school and take the Pharmacy College Admissions Test.
After two years in the Harrison School of Pharmacy, CHS will approve conferral of a student's Bachelor of Science in Nutrition/Nutrition Science. Because of the accelerated undergraduate schedule, the students enrolled will complete their Bachelor's degree in the first four semesters of pharmacy school alongside their professional training.
Paul Jungnickel, Associate Dean for Academic Programs at HSOP, said it's an exciting opportunity for the school to enroll students whose undergraduate experience is different than the typical pre-pharmacy track.
"As a School, we view diversity very broadly and this gives us a great opportunity to diversify our student body in a new and exciting way," Jungnickel said. "Having a background in nutrition science is actually a big plus for community pharmacists as they are in a position to provide valuable counsel to their patients on nutrition-related issues and provide greater emphasis on wellness in their practices."
Jungnickel adds that the Board of Pharmacy Specialties provides specialty certification for
nutritional support pharmacists
, who ensure patients maintain optimal nutritional health through different kinds of treatment.
For more information on this program, contact Student Services Coordinator Linda Bruner at
lrb0018@auburn.edu
.