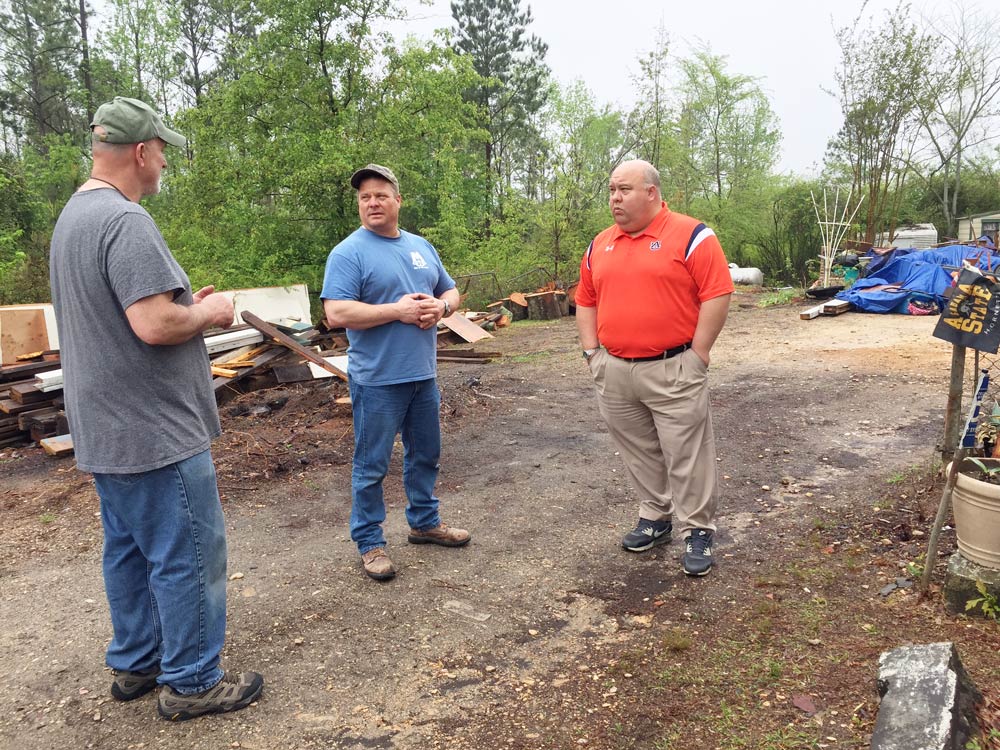 Mayor Copeland speaks to volunteers in Smiths Station. Copeland said he drives around the city every day to assess the needs of the people.
Mayor Copeland said volunteers from all across the nation flocked to Smiths Station to help, but there's still work to be done.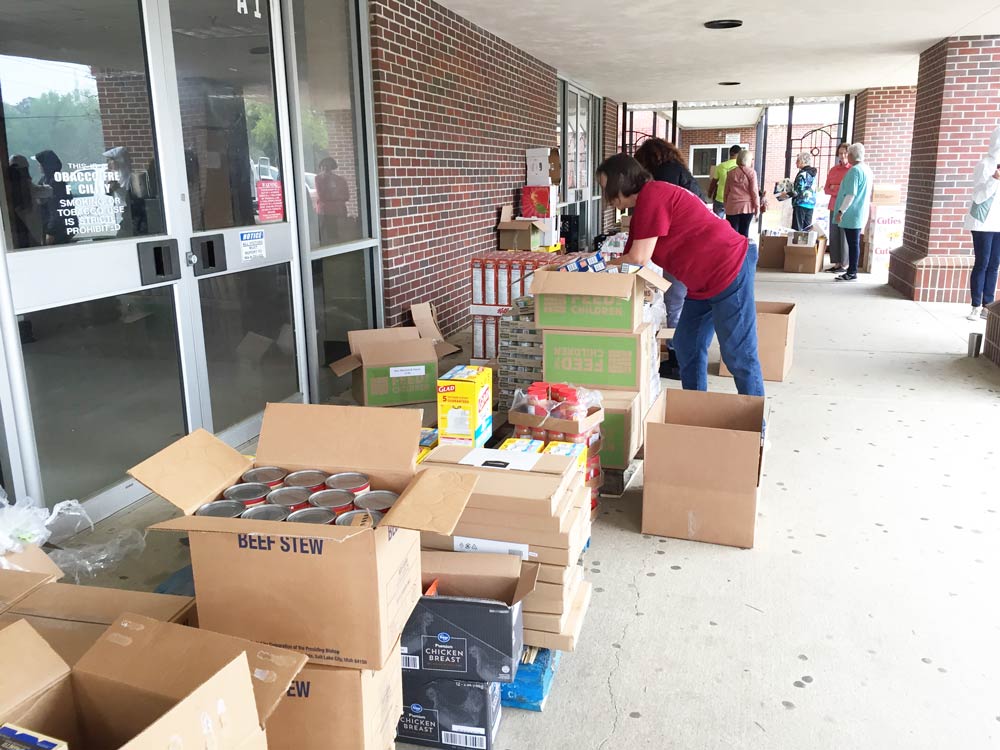 The Food Bank of East Alabama plans to bring its mobile food pantry to Smiths Station on a semi-regular basis.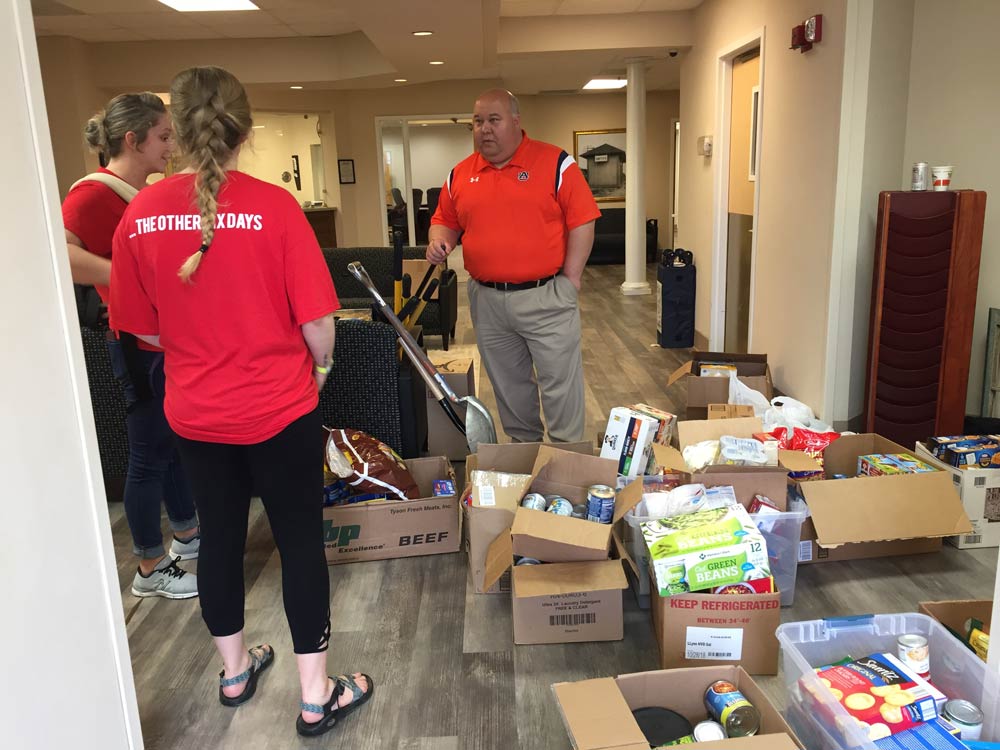 >Mayor Copeland speaks to volunteers in Smiths Station.
Previous
Next
Fred "Bubba" Copeland fills many roles in Smiths Station, Ala. Pastor, grocery store owner, mayor and, after the March 3 tornadoes, leader of the town's relief efforts.

Copeland, an Auburn University hotel and restaurant management alumnus knew on the morning of March 3rd that the weather was going to be bad. At work on that Sunday morning, he received a tornado watch alert. After church, the watch turned into a warning. And by that night, more than forty families in his town were homeless.

Broken trees and debris were piled so heavily onto the roads that the Alabama National Guard and the Smiths Station fire department had to cut a path through the devastation. Gas and water spewed from the ground, and trailers were toppled. Copeland and a group of volunteers assessed each home, digging people out of the rubble and comforting those who were left standing in the street in shock.

"The first thing that happens is your adrenaline's pumping. And you sit there and you go, 'Oh, I'm not prepared for this.' But then you realize that it's your job to be prepared for it," Copeland said. "You're trained to be a servant leader. My background is being a servant. So I started serving the people, assessing, asking 'what do you need?'"

In the wake of the destruction wrought by the tornadoes, volunteers flocked to Smiths Station. Copeland said about 7,000 came from all across the nation to pitch in. He said those who couldn't handle a chainsaw or clear the roads cooked for the volunteers and the people of Smiths Station.

"It was just an amazing event. For a moment, we were like what we say we are in the Auburn Creed, the Constitution and the American dream. It was about sympathy for our fellow citizens – we were a melting pot," Copeland said. "That's what it was like. And it didn't matter who you were, you just got in and helped where you could."

As the people of Smiths Station try to rebuild their lives, the Food Bank of East Alabama established a mobile food pantry to meet residents' basic needs. The 'food pantry on wheels' distributed meat, fruit, vegetables, snacks, boxed food, milk, non-perishables, toiletries and cleaning supplies, among other necessities.

Board member Gail Hall said it was important to bring the food to those who need it, but may not be able to travel to Auburn where the Food Bank is headquartered.

"There are at least 20 families that don't have transportation, so we are packing boxes for them and delivering food," Hall said. "There are also people who just can't get food anywhere else, so they can come here and load up a box of food to take home."

Support for the food pantry also came from Latter Day Saints, Amazon, Kroger's Atlanta Division and the food bank's national network. Executive director Martha Henk said Smiths Station's story touches hearts around the nation.

"The stories are horrifying, but you also get this sense of resilience. All of us are just absolutely heartbroken over the devastation and the way their lives have changed," Henk said. "I think we all just want to do something to help. What we can do is provide food."

The mobile food pantry will continue to make stops in both Smiths Station and Beauregard on a semi-regular basis.

But despite the progress made in Smiths Station, the city still needs help to rebuild its quality of life. Mayor Copeland said in addition to basic needs, residents would benefit from things like volunteers planting a flower bed outside of homes or helping others understand the FEMA paperwork residents have to fill out.

Copeland said the community has to keep going until the scars of this tragedy are healed with hard work and time.

"As long as you keep moving, it will get better. You can't stop. You may not accomplish much in a single day, but you've got to keep moving," Copeland said. "I'm just the cheerleader for the people. I'm using my education to serve the people by checking on them every single day. I cannot rest until they can rest. Until each one of them has a toothbrush in the bathroom of their home, I can't stop. I won't stop."

For more information on how to help in Lee County tornado relief efforts, visit www.auburn.edu/tornadorelief . To learn more about volunteering or to give to the Food Bank of East Alabama, visit http://foodbankofeastalabama.com/ .