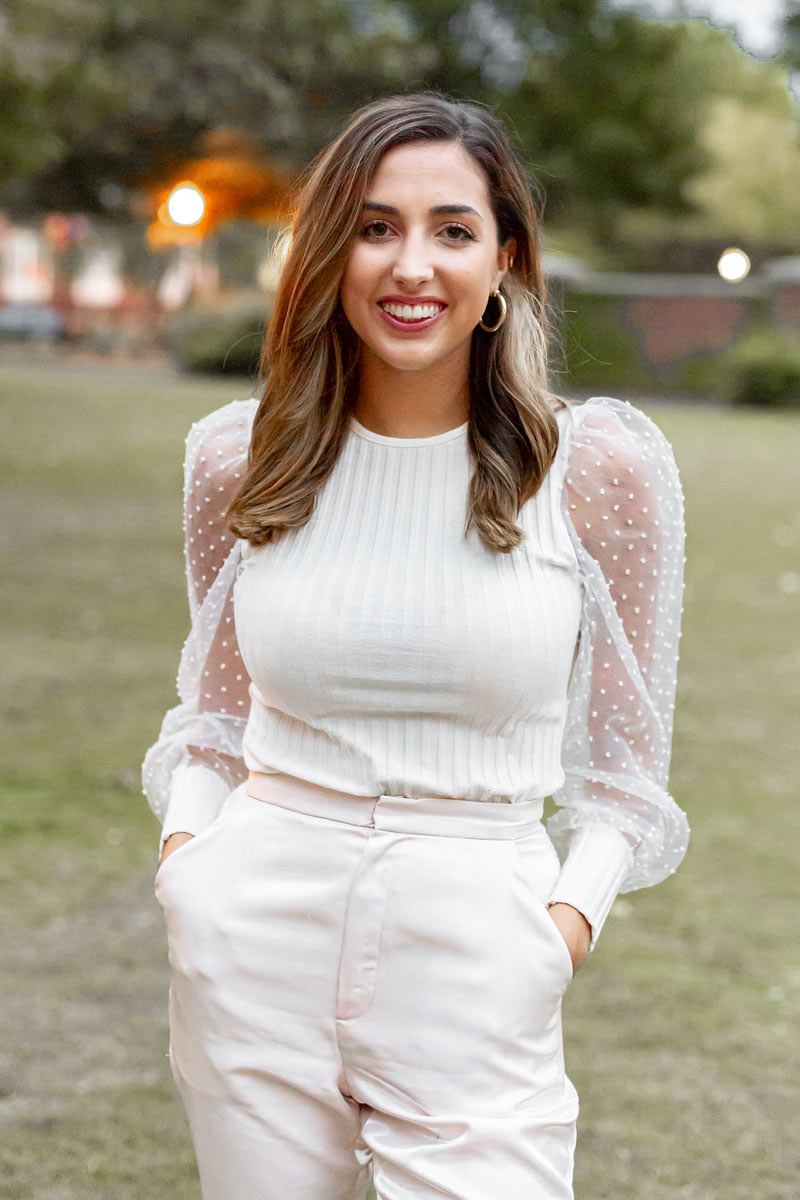 Shannon Lucky, 2021 Auburn University President's Award winner in the College of Human Sciences

Apparel merchandising senior Shannon Lucky has been awarded one of the highest honors available to Auburn University students – the President's Award.

Lucky, who will graduate from the College of Human Sciences this May, grew up in New Jersey and her passion for apparel was sparked early, when she enrolled in pre-college courses at the Fashion Institute of Technology in New York. She was drawn to Auburn for the apparel merchandising program's top ranking among fashion schools in the South. Her choice was solidified when she first joined the Apparel Merchandising and Design Association, or AMDA, her freshman year and saw behind the scenes at Billy Reid's studio in Florence, Ala. Since then, Lucky has excelled academically and in her many extracurricular activities.

The President's Award recognizes one student per college each year who displays outstanding qualities of leadership, citizenship, character, and promise of professional ability.

"That my professors actually nominated me out of everyone was very humbling, and it meant a lot because all of this hard work I've done over the past few years has been recognized," Lucky said. "It's powerful when you do something and you're proud of yourself, and it's also powerful when someone else recognizes that."

Lucky has earned Dean's List designation every year at Auburn and has already completed minors in both business and international studies. She is a member of the Kappa Omicron Nu Honor Society, the Phi Kappa Phi Honor Society, Sigma Kappa sorority, CollegeFashionista and the Auburn Club Swim Team. Lucky also served as a National Retail Federation Foundation Student Ambassador and fundraising volunteer for the Alzheimer's Association. In addition to the President's Award, Lucky has won a National Retail Federation Rising Stars Scholarship, the AMDA Peer Giving Award and a Joseph S. Bruno Auburn Abroad in Italy Endowed Scholarship.

Of Lucky's extensive responsibilities and honors, she said her role in AMDA has stood out the most. A member since freshman year, and now vice president of the student organization, Lucky oversees the group's professional communication, sets up events and connects apparel students with the Apparel Advisory Board, as well as advancing opportunities for members to grow professionally and helping raise AMDA membership.

Recently, Lucky celebrated the release of SWATCH magazine – a student-made print magazine that features articles on fashion, beauty, career and lifestyle topics; spreads of apparel student projects; photography; and deep dives into the pandemic's effect on apparel. Lucky – who co-founded SWATCH with AMDA member Deidre Dolan to showcase students' creative talents – coordinated the fundraising, photoshoots and design of the magazine almost entirely remotely.

When the magazine was released last fall, AMDA sold more than 150 copies.

"The magazine was my main responsibility and it's also the thing I'm most proud of. I was a sophomore when I pitched the idea, and to see how far it's come and to actually have it in print, has been so memorable," Lucky said. "To see how excited the members have been, especially during COVID this past year, because there was less opportunity to get involved on campus, and providing that creative outlet in another way for them to share their work has been the most rewarding experience."

Apparel Merchandising Internship Coordinator and Lecturer Annette Burnsed, PhD, works closely with Lucky as the AMDA advisor and was one of four faculty members to nominate her for the President's Award.

"Shannon exudes all the traits of an excellent and effective leader—she has an impeccable character, leads by example, has vision, maintains a high level of professionalism, and has a strong work ethic. She goes above and beyond in all that she does; she never settles for the bare minimum or status quo. She consistently sets goals and achieves them. Finally, Shannon always considers others when leading," Burnsed said. "Given her determination and perseverance, I have no doubt that we will be reading about Shannon's accomplishments in the apparel merchandising field for years to come. Altogether, she a bright, talented, and remarkable young lady. She embodies all the characteristics outlined within the Auburn Creed. We are fortunate to have Shannon represent the Department of Consumer and Design Sciences, College of Human Sciences, and Auburn University."

Burnsed also commends Lucky for building a network of industry professionals while in college, who she said are eager to see what Lucky does next. And as Lucky looks to the future, she has started seeking full-time employment and eventually wants to travel back to New York City, all while giving back to Auburn as an alumna.

"Auburn has been such a huge part of my life and to be able to pay that back one day is a big goal of mine," Lucky said. "I want to be on the Apparel Advisory Board someday and be able to give back to the students, because I know so many alumni and older students who have helped me, so I hope to do that someday."

One of Lucky's final projects as an Auburn student will be as co-chair of The Fashion Event, to be held virtually on April 9 at 7 p.m. Lucky will be honored at the President's Awards ceremony on April 13. For more information on SWATCH by AMDA, visit swatchbyamda.com.