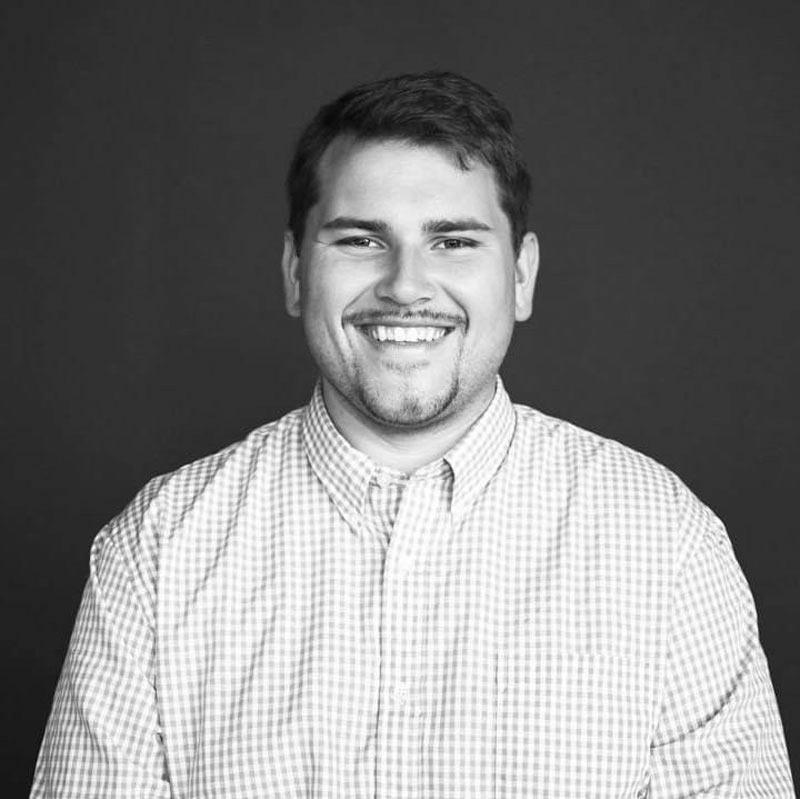 Nate Prisoc, graduating senior in Interior Design.
Interior design senior Nate Prisoc just couldn't wait until after graduation to start his career. When Prisoc receives his degree from the College of Human Sciences this weekend, it will be with nearly six months of real-world design experience already behind him.

Prisoc is an interior designer at Set to Sell, a Birmingham, Al. based staging and design company. As a fifth-year senior whose two final classes are virtual, Prisoc didn't hesitate to leave Auburn early to work.

"I've always been a go-getter. I've had a job since before I could drive. When there was a glimmer of a possibility that I could start working during my last semester, I reached out," Prisoc said. "At Set to Sell, I was offered a part-time position but noticed they were busy and offered to work more, so now I work about 38 hours a week. I bridge the gap between the staging and design services, so I do stages and I have a lot of design clients, too. I took the job with that expectation. I want to be doing both – hands-on and working with design clients I can cultivate and design spaces around."

Prisoc credits the robust interior design curriculum and award-winning faculty for helping him grow as a professional and landing an impressive job at the entry level. He said meeting with clients and staging homes within the early years of a designer's career is a rare opportunity.

Of the courses he took at Auburn, his history of interior design course, taught by Anna Ruth Gatlin, and residential design, taught by designer and adjunct instructor Georgia Carlee, still stand out. Prisoc said employers notice a well-rounded design education that includes theory, history, and practice.

"Taste cannot be taught. Everybody's taste is different," Prisoc said. "A lot of the program was a surprise – you learn how the sausage is made. It never crossed my mind that I'd be learning the anatomy of a house, or the anatomy of a building, or a hospital, and I ended up loving it. I use what I learned from the history of interior design course all the time and my project from the residential design class is one of the main projects that helped get me my job. People are amazed by those kinds of skills."

In addition to his position with Set to Sell, Prisoc has been a small business owner since he was a sophomore in high school. Each holiday season, Nathan Prisoc Christmas Interiors helps more than a dozen clients decorate for the most wonderful time of the year.

Through college, Prisoc sacrificed every Thanksgiving break and weekend leading up to Christmas to decorate residential homes and a couple of Auburn staples. That business venture, which Prisoc first pitched through social media, taught him that sharing your passion and talent pays off.

"I've always had a thing for Christmas and so I started my own Christmas decorating business in high school and it grew year after year. Now, I have seventeen or eighteen every season, which is exhausting, but so fun. Honestly, if I could make that a year-round job, I would. People think I'm being funny when I say that, but there's real money in it and people are obsessed with it," Prisoc said. "Most of it is residential. I did have the honor of decorating the Jule Collins Smith Museum and assisting in helping decorate the Gogue Performing Arts Center. I was their student coordinator, so I kind of had an in there, but Jule Collins reached out to me, so I made magnolia wreaths for them and designed their tree."

Prisoc said graduating from Auburn is bittersweet, but he's ready to learn even more as he continues to work at Set to Sell. For students entering the interior design program, Prisoc advises they take advantage of the resources around them and believe in their design ability.

"Don't let anybody make you feel like you're not going to be good enough or that you don't have the skill or the talent, because people are going to tell you that your whole life. It shouldn't take one person, for example, to ruin your outlook on your career. One project is not going to determine your future," Prisoc said. "Realize the professors are on your side. They will help you grow. They can't teach you everything in class, so you need to take advantage of what they know about the world. The people in your class will make you better and help you learn. If you're in the studio with fifteen other people and they're cheering you on, you're going to finish it."

Get more information about the Interior Design program in the College of Human Sciences at Auburn University.