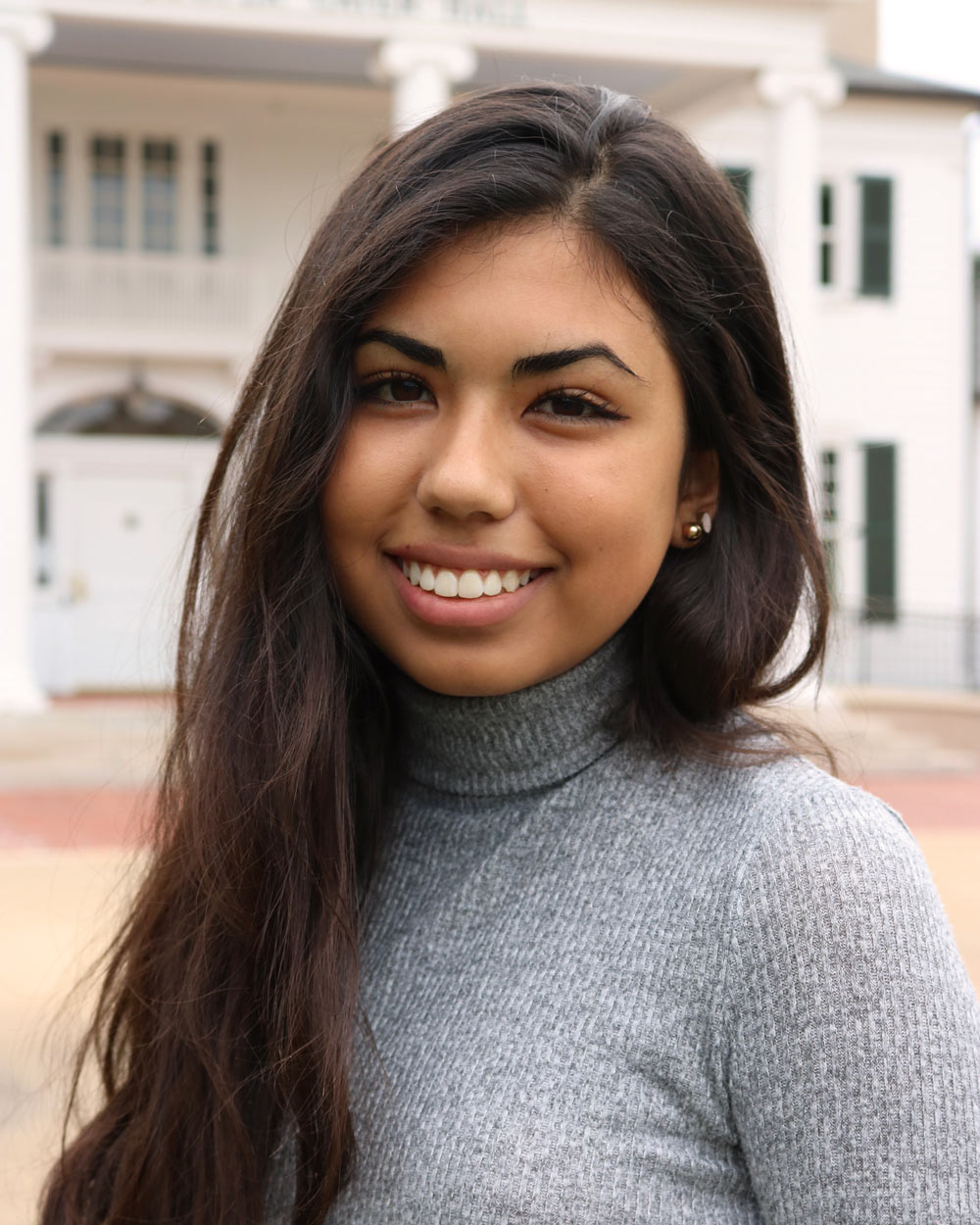 Graduating senior in nutrition/dietetics Beatriz Carmona.
Graduating senior in nutrition/dietetics Beatriz Carmona has done everything she can at Auburn, from research to volunteering to internships, and now, she's going Ivy League. Carmona, who will graduate from the College of Human Sciences this May, just committed to Cornell University's PhD program in nutrition.

Early on in life, Carmona saw the intersection of diet and disease while living in Mexico. She continued to explore health and well-being, focusing on how what we put in our body can affect our livelihood. When her family settled in Alabama, Carmona was a junior in high school and looking at colleges. She decided to pursue nutrition at Auburn for the "robust and welcoming" program and 100 percent match rate to dietetic internships.

"As a little kid, I saw hunger firsthand and internalized it. That was always at the back of my mind. If you look at it from a holistic perspective, the best use of time and resources is to invest in disease prevention through nutrition," Carmona said. "Other schools didn't compare at all. The nutrition curriculum is very robust in the sciences, so they really make sure we're well-versed on those basic scientific concepts and then they give us the tools we need to take that where we want to go. I really feel like I'm doing the most good that I can."

After being accepted to all eleven graduate programs she applied to, Carmona committed to Cornell University in part because of its research opportunities. Carmona was introduced to research at Auburn through the Honors College and associate professor of nutrition Dr. Mike Greene's lab. As a freshman, Carmona enrolled in his introductory research course to build skills in the lab, and continued to work with Greene on circadian rhythm and diet research through her junior year.

"I've built my research interests from the experiences that I've had here," Carmona said. "Nutrition literacy, sustainability, food insecurity, which is an even bigger issue now considering the economic impact of COVID, and the public health aspect of nutrition – that's what I want to do in my career."

Carmona got a head start on that career during her summer internship with FoodJonezi in Washington, D.C., where she assisted dietitian Charmaine Jones. Jones works specifically with low-income patients whose nutrition care is subsidized by Medicare. Carmona learned a lot from the in-session experience, and used those lessons to make materials explaining health concepts to patients to increase health literacy, which the FoodJonezi office still use today, almost three years later.

On campus, Carmona is a shift leader with Campus Kitchens, a student organization that takes leftover food from campus and packages it into deliverable meals to fight hunger and food waste. That experience led her to the Office of Sustainability, where she served as a data analyst and helped operate the annual sustainability picnic, which is where she first learned of sustainability at Auburn as a freshman.

"Everything at Auburn fit so perfectly for me. I was able to connect the two because I could take what I knew about food waste from Campus Kitchens and apply it to my sustainability work, and simultaneously, I used what I learned in the Office of Sustainability to help implement a recycling program at Campus Kitchens," Carmona said. "That's the community I want to be a part of, sustainability-minded people. That's the environment I thrive in."

Now, as this chapter of her life at Auburn comes to a close, Carmona's advice to new students is to reach out, be enthusiastic, and know that everyone at Auburn wants the best for you.

"Build a solid study skills foundation, explore what interests you, and look at what experiences you can take advantage of to get there. Then when you apply for those experiences, even if you feel like you're not explicitly qualified, just try, show them that you're motivated, and show them you can make a difference where you are," Carmona said. "It really is what you make of it. Genuinely, there are open doors everywhere."

For more information on Nutrition/Dietetics in the College of Human Sciences at Auburn University, visit humsci.auburn.edu/ndhm/.