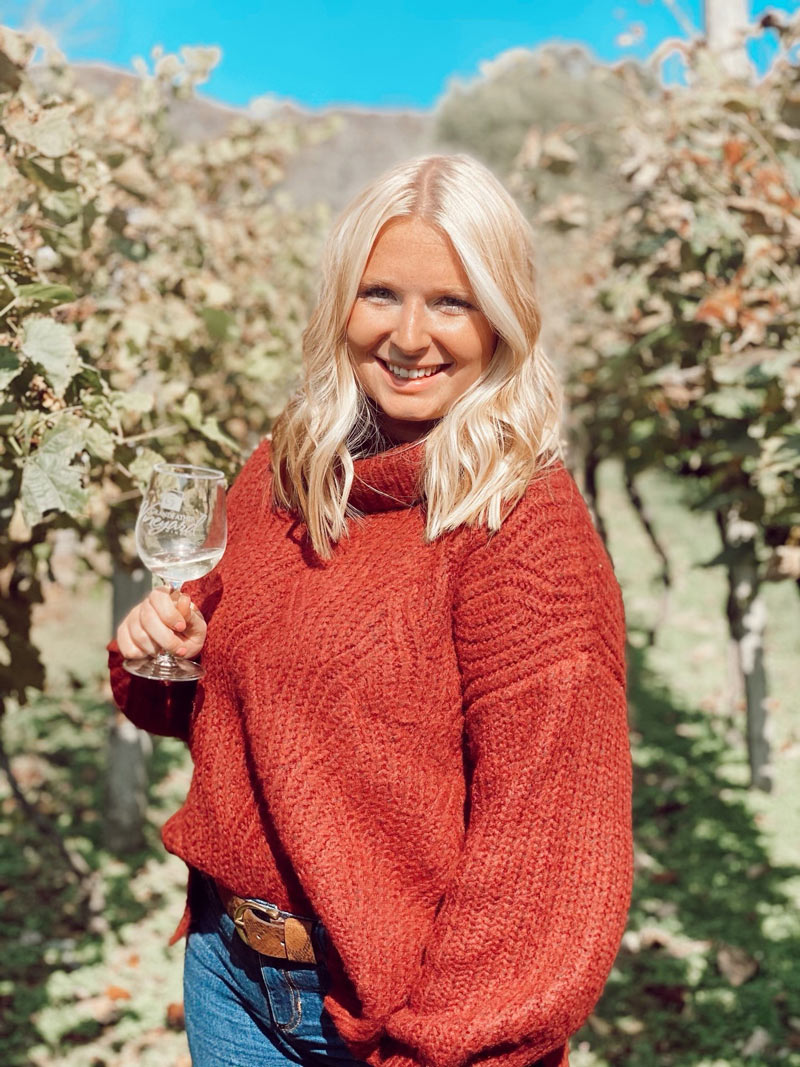 Stephanie Kesselring, graduating senior in Hospitality Management.
Stephanie Kesselring became a certified sommelier, toured Oregon's wine country, and served celebrities at the Masters Golf Tournament during her time at Auburn. She graduates this week to a position with one of the top wine makers in the nation and still, she's just getting started.

Like many Auburn students, Kesselring began her undergraduate journey in Exploratory Studies to learn which of the university's many programs would be the best fit for her. She said that semester helped her commit to hospitality management as not just a course of study, but a passion to be pursued.

"I love working with people. I knew I didn't want to sit behind a desk and the compilation of creativity and working with people drew me to hospitality," Kesselring said. "When I joined the program, I went in head first and it exceeded all of my expectations. I attest so much of where I am today to Auburn and to the hospitality program specifically. If I had gone anywhere else, I wouldn't be where I am today. I have an amazing resume and that's simply because of Auburn and the opportunities they presented to me. I'm excited for something new but also so sad to close this chapter of my life."

The next chapter of Kesselring's life will start at E. & J. Gallo Winery in south Florida after graduation. She recently accepted a position in the company's sales leadership development program as an on-premise sales representative. In this role, Kesselring will manage wine sales to a group of restaurants, hotels, and bars, then is expected to move into a team leader position after two years.

Kesselring believes it was the travel and certification opportunities at Auburn that led her to land a position at one of the most competitive wine companies in the nation. She was introduced to the wine industry during the Epicurean Wine Tour of the Oregon Willamette Valley, an immersive wine experience that takes hospitality students to the wineries, distilleries, breweries, restaurants, and hotels of Oregon's wine country.

When Kesselring returned from Oregon, she earned her Level 1 Sommelier certification and has since continued to study for her Certified Specialist of Wine exam, sponsored by Trinchero Family Estates, another powerhouse of the wine industry that engages Auburn hospitality students with vineyard tours and an inside look into premium wineries.

"I couldn't be more grateful for these experiences because that's what got me to where I am today. Before the Willamette Valley tour, I really knew nothing about the art and service behind wine. That's the time I pinpoint as a transitional moment, where I really fell in love with the wine industry," Kesselring said. "I think the reason I was put on premise with Gallo was because of my wine knowledge, and thanks to Auburn for those opportunities, because Gallo is an amazing company and I could not be more excited for this career path."

Kesselring also has extensive experience with special events per her event management concentration. For two years, she worked as a banquet server and bartender at The Hotel at Auburn and Dixon Conference Center, an AAA Four Diamond Property, to cater events and festivals in the heart of Auburn.

More recently, Kesselring worked The Masters Golf Tournament at Augusta National Golf Club. She bartended at the Pavilion in Berkman's Place, an invitation-only venue that serves exclusive clientele, including entertainers and athletes.

"The level of service and the amenities they have there, that you can provide people there, is unmatched. The facilities are beautiful. My jaw dropped the first day. Definitely the hardest I've ever worked, but it was so worth it and if I ever had the opportunity to go back, I absolutely would," Kesselring said. "Amazing for the resume, I only wish I would've done it a little earlier. I got a job without it, but even in ten years, it's going to be something people want to know about because it's such a rare opportunity."

In the future, Kesselring will pursue a Certified Specialist of Spirits (CSS) designation and continue her sommelier education through Gallo. As her Auburn career comes to an end, she advises current and prospective students to mindfully take advantage of the opportunities available at Auburn.

"My advice to anyone entering the hospitality program is these things aren't just given to you, you have to work for them," Kesselring said. "Put in that time, put in that effort, make as many connections as you possibly can, and invest in your professors as they invest in you. I always thought going to a big university like this, I would never know my professors, but they know me by name and when I got the job at Gallo, I was able to personally thank them. I'm so grateful for Auburn and very sad to leave, but in the same breath, so excited for what's next."

For more information on the Hospitality Management program in the College of Human Sciences, visit their website.