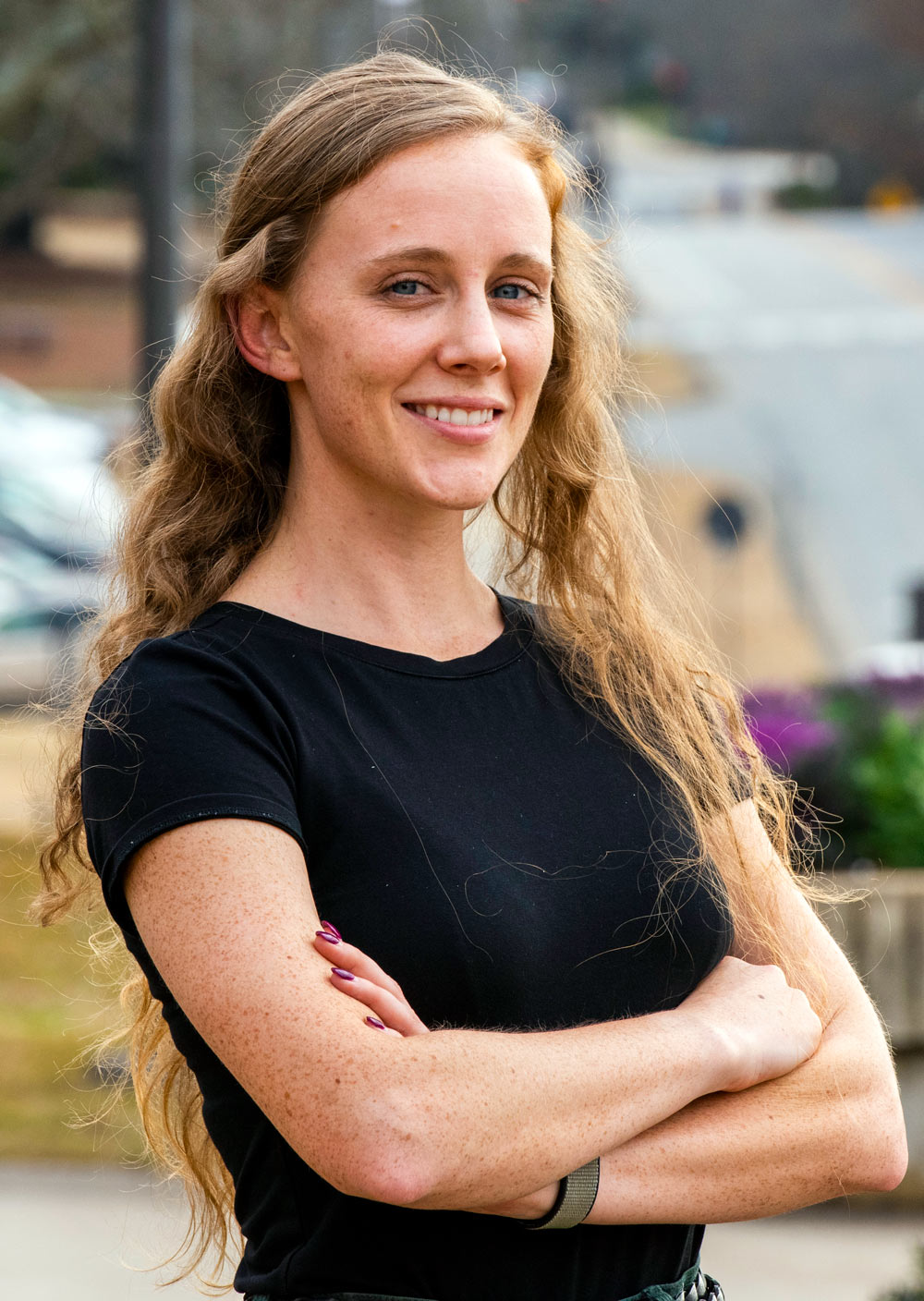 Krissy Smith, Nutrition/Dietetics PhD student in the College of Human Sciences

Auburn University Nutrition/Dietetics PhD student Krissy Smith is already an accomplished researcher and excellent student, and now, is one of only a handful of PhD students around the country to receive a place in the Center for Clinical and Translational Science's TL1 program. For the next year, Smith will use the fellowship designation to study how improved diets can reduce anxiety in breast cancer survivors.

The Predoctoral Clinical/Translational Research Program (TL1) is a yearlong fellowship in which participants develop research focused on reducing health disparities or disease that disproportionately affect the Deep South. Fellowship winners receive the National Institutes of Health National Research Service award stipend, travel support to attend the Association for Clinical and Translational Science national meeting and tuition assistance, as well as mentorship and networking opportunities.

Smith said originally, she viewed the program's application as a chance to refine her grant writing skills, and since winning, sees the award as a culmination of all the work she has completed at Auburn.

"It's an honor because there are so many people working hard and doing amazing things in the healthcare field and clinical/translational research field. For me to be recognized as one of them was very validating for this journey that I've been on with my master's and PhD," Smith said. "Improving the mental health and quality of life of breast cancer survivors would be an incredible feat and it's a great avenue of research. Beyond that, I hope to improve my skills and become more of a well-rounded scientist."

Smith's TL1 research project will focus on administering probiotics to breast cancer survivors. Past research has shown there's beneficial bacteria in the gut that interacts with the nerve cells on the vagus nerve – the largest nerve in the body that spans from the brain to the gut, and regulates functions from internal organs to mental health.

Breast cancer survivors are a unique population to study because of their anxieties surrounding cancer and the effect of cancer treatment on the digestive system. Smith hopes further examination of the intersection of nutrition and cancer-related anxiety provides more insight on how to extend quality healthcare.

"All across the world, we've improved our technology on understanding and diagnosing cancer, as well as treating it, so we're going to have a large population of breast cancer and other cancer survivors who live with a more rapidly declining health-related quality of life and different mental health issues. And here in the South and across the country, many African Americans are left without the quality care they deserve beyond their cancer diagnosis and beyond surviving their cancer," Smith said. "It's a new field, so we're still learning which microbes are good, which microbes are bad, and how they influence all of the systems in the body. The more we do this kind of research, the more we can help others."

Drew Frugé, assistant professor of nutrition in the College of Human Sciences and director of the Didactic Program in Dietetics, is Smith's mentor. Upon his faculty appointment at Auburn University in 2017, he recruited Smith as a teaching assistant and has since seen her excel in grant submissions, clinical trials, peer-reviewed journal articles and mentorship of undergraduate research assistants.

Frugé said Smith has "far exceeded" his expectations and will no doubt continue to do so through the TL1 fellowship.

"Ms. Smith deserves this award because she has accepted numerous challenges to coordinate clinical trials, mentor undergraduates, analyze data, conduct literature reviews, write manuscripts and grants; all while taking classes and assisting with classes," Frugé said, and in commending her work ethic, noted both the quality and quantity of contributions Smith has made to numerous peer-reviewed research publications. "This award is significant because Krissy combined my research interests with hers and is carving her own career path. She is already a successful scientist and has a very bright future ahead."

In addition to her extensive research, Smith has also engaged the community with her dietetic work. Since she came to Auburn for her dietetic internship and master's degree, she has worked in the East Alabama Medical Center and Auburn City Schools. In the future, she aims to further bridge the knowledge gap between the research world and the general public.

According to Smith, all research translates to clinical practice, and the question leading her is: how can we better serve people?

"You get to see where these people are struggling and you get to interact with people who really need help," Smith said. "Auburn is more than just a university. It's a wonderful community. The professors are caring and supportive and get you where you need to go. Auburn helped show me who I am and brought my love of helping others to the forefront of my work."

Get more information on Nutrition and Dietetics at Auburn University.