Auburn University Interior Design Students Win Seven Daisy Bond Student Design Awards
Charlotte Tuggle | Communications Editor
Each year, the Alabama Chapter of the American Society of Interior Designers, or ASID, hosts the Daisy Bond Student Design Competition, named for designer, educator, and ASID supporter Daisy Houston Bond. Four students in the interior design program at Auburn University collectively received seven of this year's awards. ASID evaluated their designs on aesthetics, functionality, impact, creativity, and objectives outlined in the project specifications.


Ava Stovall
Best in Competition, Daisy Bond Student Design Awards
1st Place, Computer Generated Rendering
Ava Stovall, graduate student in Consumer and Design Sciences, received the highest honor in the Daisy Bond Student Design Competition for the second year in a row.

Stovall's design, which scored highest across all categories in the competition, is a reimagining of the historic Raffles Hotel in Singapore. The Raffles opened in 1887 and has since become a popular tourist destination for visitors to Singapore. Through a partnership in Associate Professor Melanie Duffey's hospitality design studio with Champalimaud Design, Stovall interviewed Champalimaud about their design of the Raffles Hotel and began redesigning the three-story landmark with more than 100 rooms and two restaurants.

"The warm colors and gold are a reminder of the luxurious history seen in the gardens through the windows. The floor plan is designed for guests to feel private, while in a public space. A special design feature is the shadows seen on the walls from the daylight hitting the custom palm leaf privacy dividers. All design aspects have been specifically selected with the history and traditions of the Raffles in mind," Stovall said. "I think it stood out because of the attention to detail I took when rendering this view. Every part of the space is designed with the user in mind. I wanted the rendering to feel like it could be a real space at a luxury hotel."

When Stovall won Best in Competition for the first time, in 2020, she was finishing her undergraduate degree in Interior Design at Auburn. She said Auburn was her dream school since childhood, and her interest in design grew out of working with her father on the business side of construction projects. In her first class, Associate Professor Lindsay Tan explained everything interior design students at Auburn accomplish, and Stovall was sold.

Ava's submission was mentored by Melanie Duffey, associate professor in Interior Design.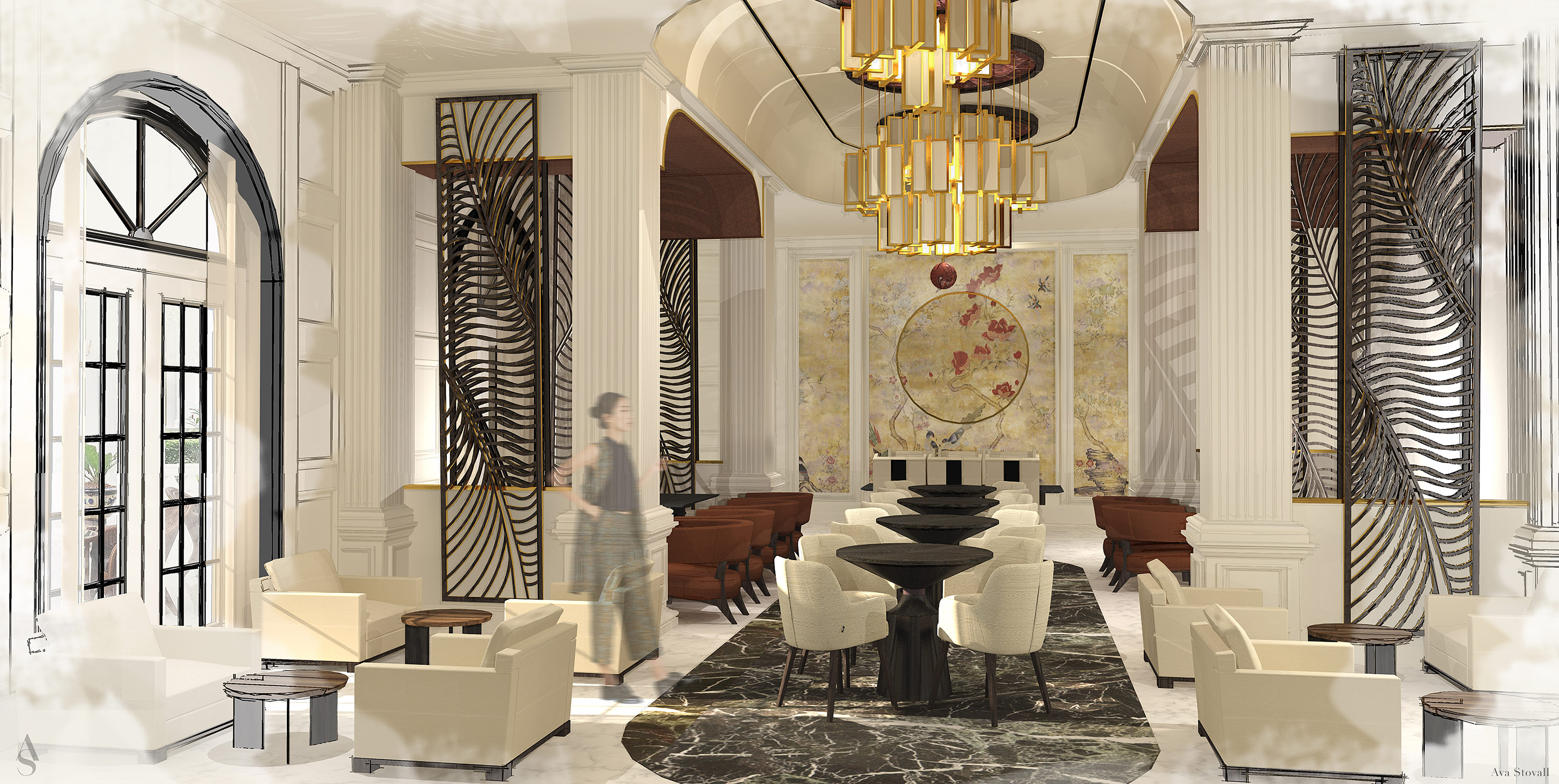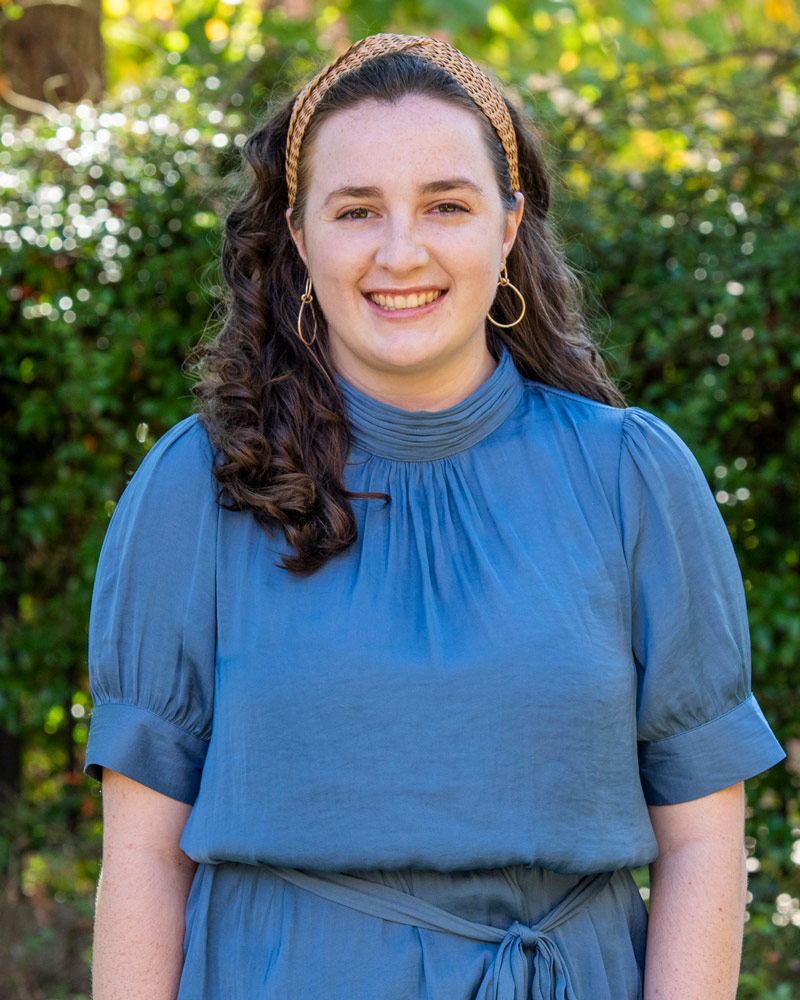 Julie Sterndorf
2nd Place, Daisy Bond Student Design Awards
1st Place, Design Concept, Residential
3rd Place, Computer Generated Rendering


Interior Design senior Julie Sterndorf placed in every category she entered: first place in residential design concept, third place in computer-generated rendering, and second place overall.
Sterndorf's winning residential concept project is an aging in place home in the mountains of Alabama. She designed the fully accessible home to promote wellness and safety while incorporating timeless elements that connected the space to the nature around it.
In the computer-generated rendering category, Sterndorf submitted an outdoor balcony space design inspired by the nightlife of Seoul, South Korea. The design features bright colors and an abstract style.
Her commercial concept project, which won second overall, is a proposal for the Dunkin' headquarters in Los Angeles. Sterndorf planned for placement of multiple departments, furniture, fixtures, and finishes that featured Dunkin's branding colors of pink, orange, and brown. She incorporated other branding elements to give the space a unique yet recognizable flair that fit the company profile.
From a young age, Sterndorf has enjoyed interior design and chose Auburn for its rankings and location. Despite years of experience building to the competition, she said she was still surprised to place in every category.
"I was encouraged to participate in this competition specifically through an independent study I worked on with my professor, Dr. Anna Ruth Gatlin, and a couple other classmates," Sterndorf said. "We worked on developing unique design problems to research and solve. We also spent time discussing past and current projects that might be applicable to submit to the competition. The sketchy, almost abstract, rendering style I applied helped showcase our design concept for the space and the more vibrant multifunctional gathering space we designed together. I believe that's why it stood out in the competition."
Julie's submissions were mentored by Anna Ruth Gatlin, assistant professor in Interior Design.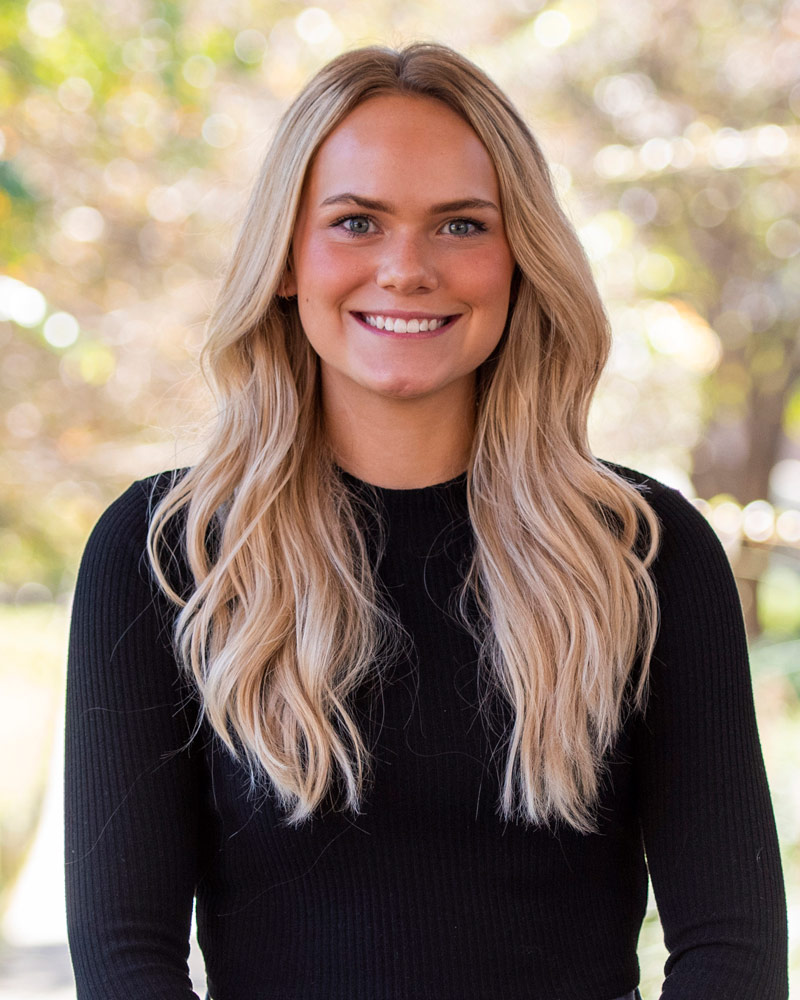 Caroline Moberly
3rd Place, Daisy Bond Student Design Awards
Caroline Moberly, senior in interior design, placed third overall for her commercial design project that reimagined Tropicana's headquarters in Miami, Fl. Moberly used bold patterns and colors to fit the company's brand while conveying a sense of fun and excitement in the space.
"At the start of my project, I spent a lot of time researching the branding of Tropicana and the culture of the company. I then used their branding to come up with an overall concept for my design, which included the use of vibrant colors, including their primary branding color orange, fresh patterns, and the incorporation of spaces that fit the company's culture and needs, while also pushing the company to grow and evolve," Moberly said. "I also think the dedication to branding and to fitting the specific needs of the company was carried out all the way through the design and created a cohesive storyline throughout the design."
Moberly, who is originally from Washington, D.C., chose Auburn after a love for interior design was sparked early in life, while watching her mother return to school for an interior design degree.
"I am fascinated by how much responsibility designers have in affecting how people feel, behave, and function in a space. I am drawn to the psychology of designing for the user in a way that will promote health and wellness, while also being visually beautiful and interesting," Moberly said. "Once I toured Auburn and the interior design program, I knew that this place was special and that the program would challenge and shape me into the designer I wanted to become."
Caroline's submission was mentored by Anna Ruth Gatlin.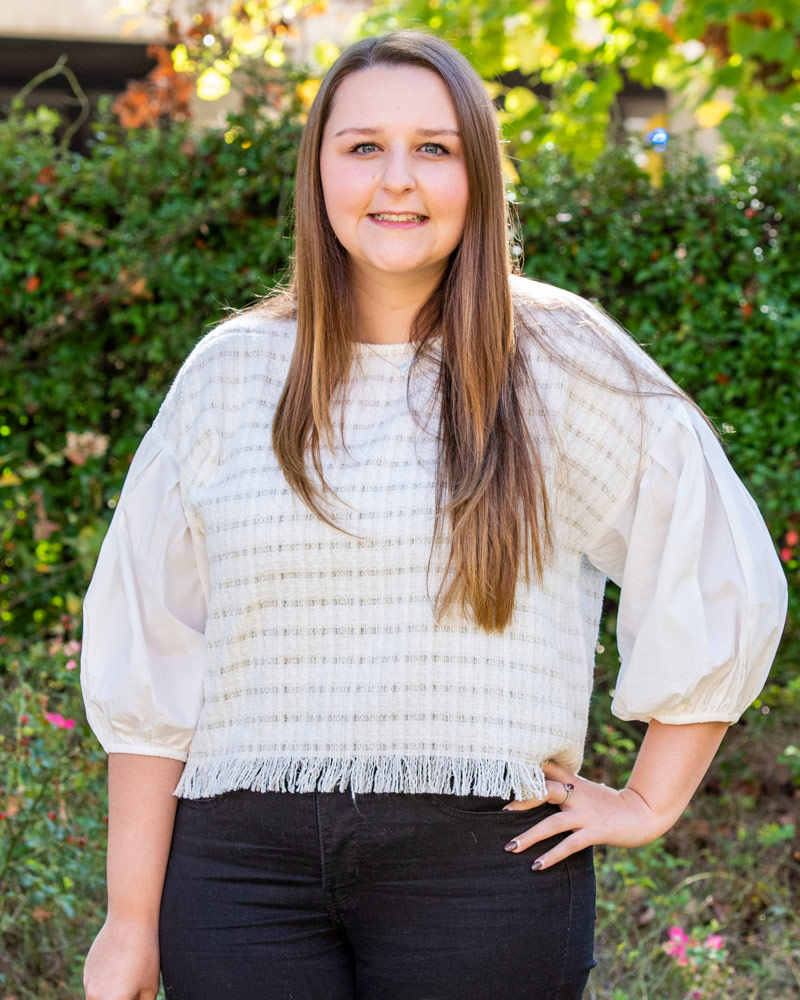 Jordan Naumcheff
1st Place, Custom Product Design
Interior design senior Jordan Naumcheff's winning product design is a pendant lamp based on the Art Deco movement, which grew out of the luxury of the Roaring 20s. Naumcheff incorporated elements of the time through her use of diagonal lines and gold detailing to recall an era marked by lavishness.
Naumcheff learned of the Daisy Bond Student Design Awards through Assistant Professor Anna Ruth Gatlin, who encouraged her to submit work to industry-recognized competitions. She completed her award-winning lighting fixture her freshman year, and was thrilled to see it recognized during her last year at Auburn.
Looking back, Naumcheff said every year at Auburn has further proved interior design is the right career for her.
"I have always loved the concept of home in all its facets – from baking and entertaining, to interior decorating. I think the home is so integral to who we are as people, and I love celebrating that," Naumcheff said. "When I found out that Auburn's Interior Design Program is nationally ranked, I knew I wanted to come to school here to get a degree in Interior Design. Interior design is one of my main passions, and I have loved every year here at Auburn studying it."
Jordan's submission was mentored by Anna Ruth Gatlin.