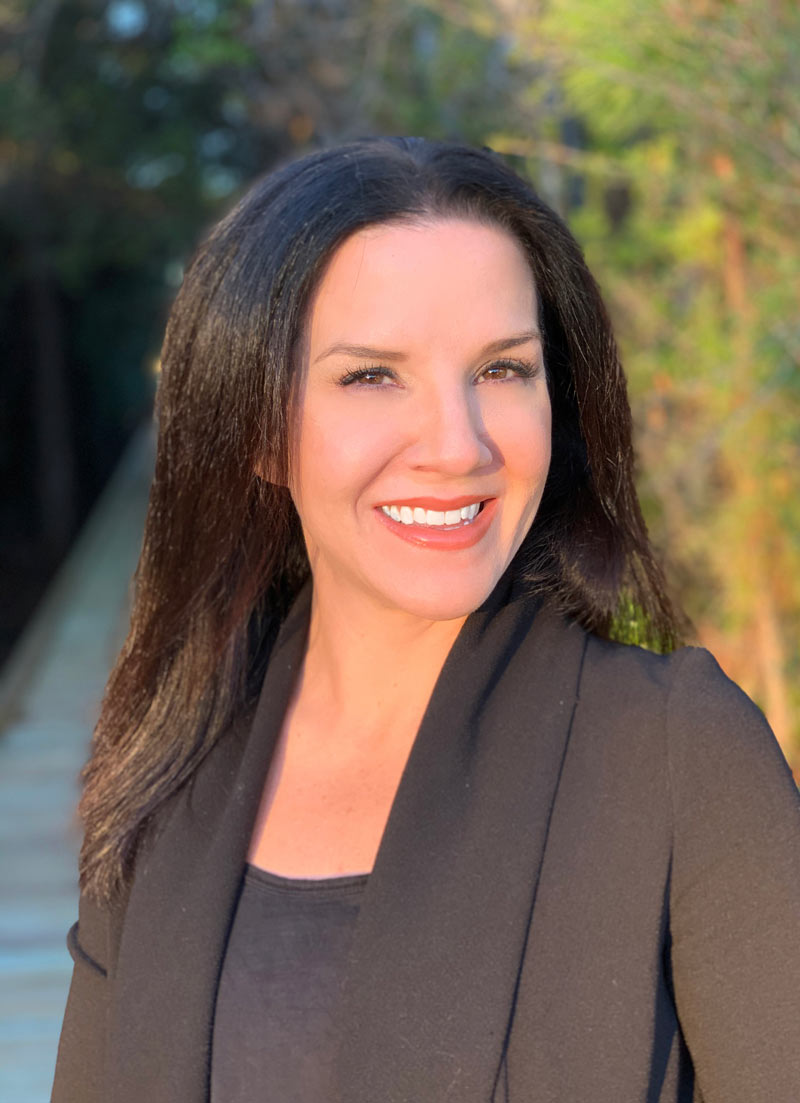 Christy Carlisle Smith, owner of Creative Concept Dream Lab and Apparel Advisory Board member for the College of Human Sciences.
Christy Carlisle Smith is an apparel design alumna and owner of the Creative Concept Dream Lab. From being one of the first Joseph S. Bruno Auburn Abroad in Italy participants to serving on the Apparel Advisory Board, she's seen the program evolve over the years and several classes of students move from college to career.

As spring 2021 graduation nears, Smith shares what she's learned about long-term success and professional happiness.

Why did you choose Auburn? Do you have a treasured Auburn memory or experience?

Auburn was one of my top three college choices. I had no question after attending an E-Day event that Auburn was the place for me. I eventually enrolled in the College of Science and Mathematics as an undeclared pre-med student. After taking an "Art for Living" class in the College of Human Sciences as a summer elective, I fell in love with being creative and chose my love of fashion as a way to use creativity and my analytic mind to pursue a career as a designer. I have so many treasured memories, but certainly have to say that nothing beats the atmosphere and feeling of an AU Game Day.

You were one of the first to attend the full 12 weeks in the Joseph S. Bruno Auburn Abroad in Italy program. What was that experience like? How does it feel to see the program grow and touch Auburn in ways such as the Bernini exhibit, now at the Jule Collins Smith Museum of Fine Art?

This was absolutely a life-changing experience and certainly a pivot point for my life. After living abroad in another culture, I knew that I was confident enough to chase the dream of living in New York. I know that living in another culture where I was forced to try to speak another language taught me many life skills needed to live in a city such as New York with so many other cultures and lifestyles. Exposure to international foods and art really opened my heart and my mind to the idea that there was a great big world waiting for me. I truly loved being a part of the first full term and it brings me great joy to see the program flourish and grow. I know this program will offer the same experiences and open many doors for all of the students that are able to attend. I am so happy to hear that the exhibit has come to the Collins Fine Art Museum and hope that I can make it to Auburn to browse! Certainly this will bring back some very fond memories and feelings.

How did your time at Auburn prepare you for your career?

Auburn was the perfect place to prepare me for my career. I was exposed to many different angles of education related to fashion, not just the sketching and glamorous aspect that the industry portrays. I know that I was very prepared from a business, science, and social perspective to enter the work force. At Auburn, I was taught to work hard and stand out, which helped me to land my first job with Kay Unger New York in 2003 as a design assistant before my 10 week internship was over.

What inspired you to launch the Creative Concept Dream Lab?

After working for Kay Unger New York for 10 years, and Judith March for eight years, I knew that starting my own company would be the next step. While working for these smaller, privately owned companies, I had to wear many hats and was responsible for much more than just design. My tasks ranged from legal, to working with digital marketing companies, social media, production management, logistics, and retail management throughout the evolution of my career (all while managing design and product development). Five years ago, I had become a mother of two children, and realized that I was missing out on very valuable time with my little ones. It was certainly time to start my own business and use all the knowledge that I had acquired in these areas to create a flexible schedule, and to be a more present mom. One of the most valuable aspects of being a business owner is that I am in control of the projects that I pursue and how everything is handled.

Considering your engagement with the Apparel Advisory Board, how would you describe Auburn's apparel program now?

I think Auburn's program has evolved in the best way to prepare students for the work force by encouraging work experience, networking, implementing mainstream programs and processes, and offering mentorship opportunities through board members and connections of board members.

You've had some of our students as interns. What impression did they make? What kind of potential do you see in them?

I have hosted Auburn design and retail interns at all of the companies that I have worked for, including two virtual interns this past year with my current company during the pandemic. Auburn interns always stand out as willing to work hard, learn, take constructive criticism, and evolve to fit their environment/role. Also, now being based in Birmingham, I hope to be able to continue an internship relationship with the program with close proximity to the university.

What advice do you have for our graduating seniors?

My advice has always been to learn as much as you possibly can no matter what job you are working. Don't turn down tasks that you don't feel fit your job description or potential. Make yourself a well-rounded candidate because you can apply those skills and experiences to make yourself stand out at different moments throughout your career. Create boundaries, but be flexible and available during the early years of your career and allow people to teach you as much as you can learn.

Anything else our students should know?

I've learned the hard way that success is not the same to everyone, and you should follow a path that feels right for you and your desires. Do not stay in unhealthy or unhappy situations for longer than you have initially committed. Be a loyal employee, but stand up for what you believe is right. I truly do believe that doors close for a reason, even if the other side seems scary or unstable...goals should scare you a little and excite you a lot! For more information on the Apparel Design and Merchandising programs in the College of Human Sciences, visit their website.