Student Spotlight: Molly Sandlin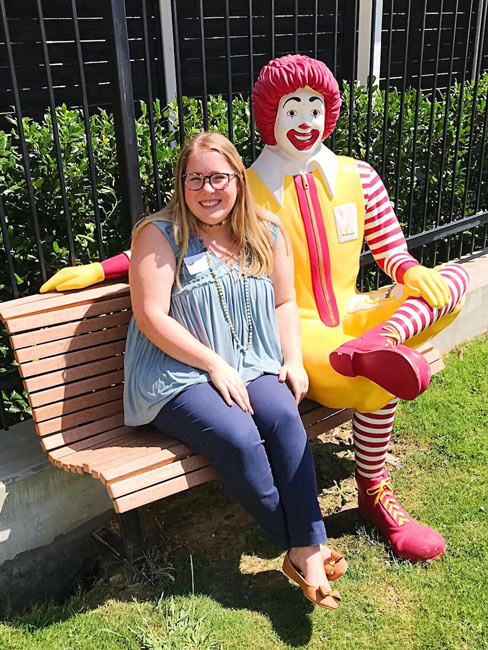 My name is Molly Sandlin and I graduated from Auburn University with a Bachelor of Science in Global Studies in May 2018. I am now a Hospital Programs Coordinator at Ronald McDonald House Charities of Central Texas. The Central Texas Ronald McDonald House and Ronald McDonald Family Rooms provide a comforting "home-away-from-home" for families to stay so they can fight their child's illness or injury together. I assist in managing our Family Room and Happy Wheels Cart programs, offered in four local hospitals in Austin, Texas.

While our Family Rooms offer a place for parents and families to rest and regroup inside the hospital, moments away from their sick child, our Happy Wheels Cart goes into hospital units offering complimentary items to families who cannot leave their child's bedside. I am passionate about my role because I get to serve children and families during their hardest times through our very intentional programs. I work with volunteers and meal donors every day to help these programs flourish, which allows me to spread awareness and my love for the organization through every interaction I have!

I chose the Global Studies degree with the Philanthropy & Nonprofit Studies minor because I wanted to use my passions for service and helping children in my career. My Global Studies degree prepared me for my career in the nonprofit sector through the various classes I took during my time at Auburn. These classes helped me see the needs of the world and where my skills and interests could overlap.

My favorite Global Studies class was our Capstone: a senior-level class that partnered Global Studies seniors with local nonprofits. The Capstone class was tremendously helpful in my learning and in my transition beyond college. The opportunity to grow our abilities while gaining experience that directly correlated with what we would be doing following graduation created a meaningful work experience that I could not have learned from a book. We also took time to prepare our personal mission statements which helped narrow my focus during my job search.

I am endlessly thankful for how truly prepared I felt when following my passions after graduating from Auburn and Global Studies because of how my education shaped me into a well-rounded individual, eager and ready to make the world a better place.