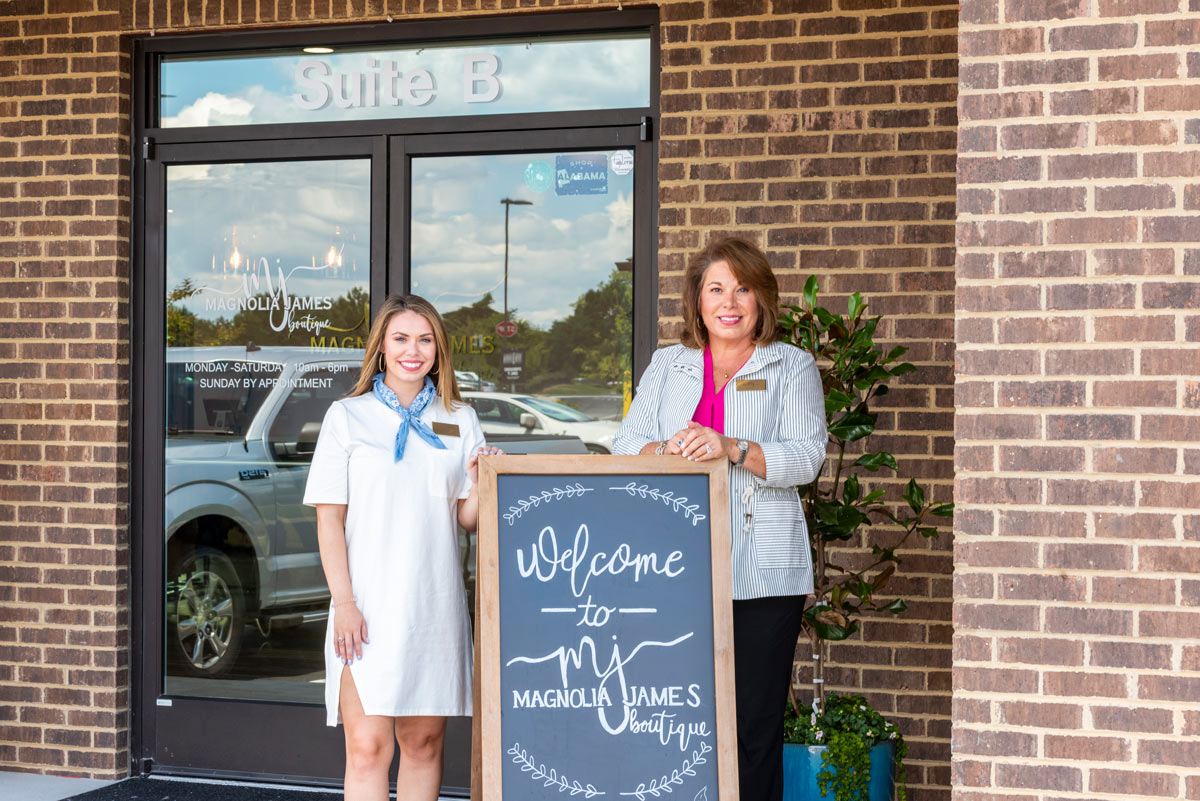 Brooke Kirkpatrick, with her mother Laura Lewis Kirkpatrick, standing in front of Magnolia James Boutique.
A mother/daughter Auburn University alumnae team is using their education to achieve a lifelong goal – owning a professional woman's dream boutique. On Friday, Aug. 2, Brooke Kirkpatrick, with the help of her mother Laura Lewis Kirkpatrick, will officially open the doors of the Magnolia James Boutique with a ceremonial ribbon cutting and grand opening celebration.

Brooke Kirkpatrick graduated from Auburn in 2018 with a degree in Communications and a minor in Philanthropy and Nonprofit Studies. After working at a boutique during her undergraduate career, she developed a business plan to open her own with the help of her mother, a 1987 Apparel Merchandising, Design and Production Management graduate.

"After college, I thought I was supposed to pursue one career path, but those doors just weren't opening, and I think that was because God was trying to tell me that this was supposed to happen," Brooke Kirkpatrick said. "So, we started going to market and tried to find unique, different brands that weren't represented in our town."

The Magnolia James Boutique has choices for anyone from recent college graduates looking to fill their professional wardrobe to more mature women who want stylish options for everyday wear. The store also sells Laurel Browning artwork, Auburn-inspired Kyle Cavan jewelry and Boho Rococo bags. And for customers who want a more personalized shopping experience, private parties and personal styling services are also offered.

Brooke, who has always supported philanthropic endeavors in her personal life, has relied on the financial skills she learned during her Philanthropy and Nonprofit Studies minor courses to develop the boutique's financial plan.

"The minor changed my total outlook on how to prepare myself as a young woman in the world – financially, philanthropically and overall, to be much more self-aware of how to budget," Brooke Kirkpatrick said. "What I learned in those classes is definitely reflected here at the boutique."

Brooke's mother, Laura Lewis Kirkpatrick, is an Apparel graduate and an active member of the Women's Philanthropy Board at Auburn. She previously worked as a buyer for Parisian and a manager for Macy's. With her knowledge of the fashion industry, Laura helped Brooke establish relationships with brands and build an identity for the Magnolia James Boutique. On the business side, Laura said she was impressed with the financial knowledge Brooke gained from her Philanthropy and Nonprofit Studies courses.

"Those kinds of classes will stick with [students] forever," Laura Kirkpatrick said. "It will teach you the day-to-day stuff that you're going to need to know for the rest of your life. Everyone at Auburn needs to take a class like that."

The Philanthropy and Nonprofit Studies curriculum focuses on preparing students to become philanthropic and nonprofit leaders that give back in substantial ways. The plan of study teaches students how to solve critical social problems through philanthropy and nonprofit work. An important part of the program is educating students about personal finance and how to manage their money wisely. In addition to the minor, Auburn students will have the opportunity to enroll in the undergraduate major starting this fall.

Sidney James Nakhjavan, executive director of the Cary Center for the Advancement of Philanthropy and Nonprofit Studies and the Women's Philanthropy Board, teaches personal finance in the Philanthropy and Nonprofit Studies program. She said the knowledge students gain in these courses is invaluable.

"Today's students have had few opportunities to learn how to create solid financial foundations," Nakhjavan said. "The minor and the new major prepare students to be financially responsible and to excel in the philanthropic and nonprofit arenas. Learning the financial and philanthropic concepts that this degree requires will set a student up for a lifetime of success."

The Magnolia James Boutique will host its grand opening on Friday, Aug. 2 at 10 a.m. at 1957 E Samford Ave., Suite B in Auburn. The boutique is open Monday through Friday from 10 a.m. to 5 p.m., Saturday from 10 a.m. to 4 p.m. and by appointment only on Sunday.

Get more information about the Philanthropy and Nonprofit Studies program at Auburn.