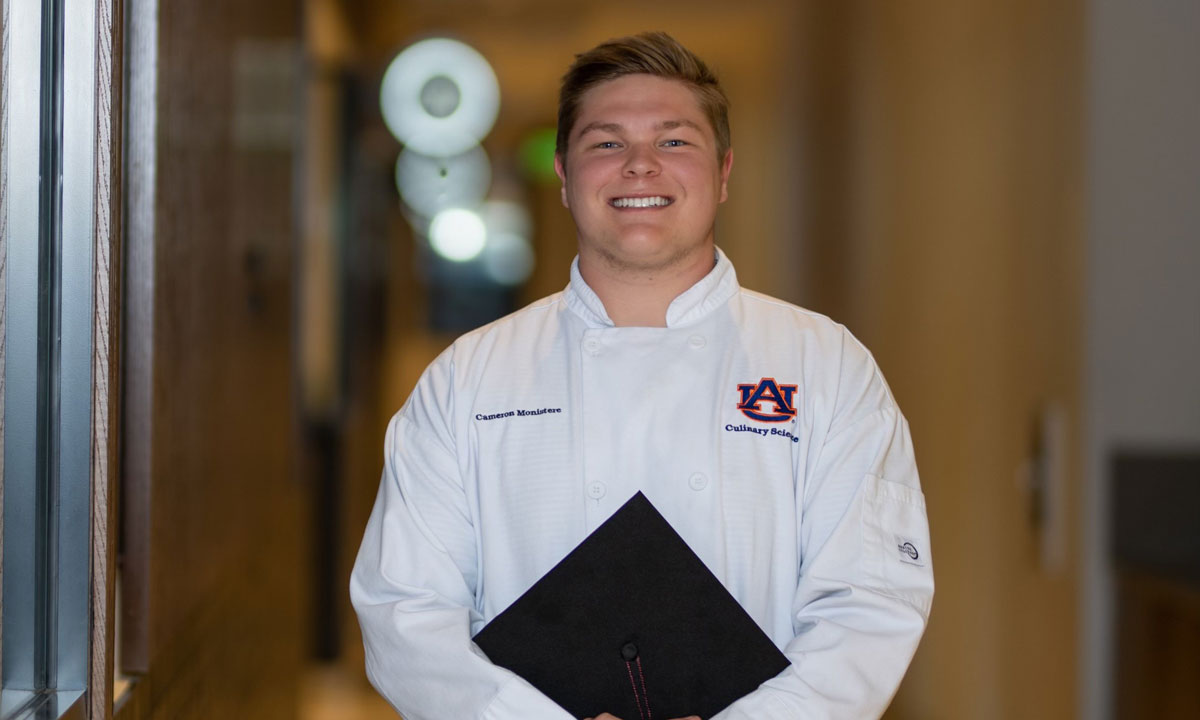 A love for cooking started at an early age for recent Auburn University graduate Cameron Monistere as a tired and hungry football player in middle and high school spending strenuous hours in the Alabama heat. Luckily for him, his cooking skills evolved into something greater as Monistere now works at one of the top luxury resorts in Austin, Texas.

"I had cooked a lot in my life and back in the day coming home from practice it was kind of fend for yourself kind of nights," Monistere said. "I made stuff from whenever I was old enough to play football. After that, I started working at restaurants pretty consistently and kind of knew that that was going to be the thing for me. If not culinary exactly, just something to do with restaurants or hotels or things like that."

Monistere followed that passion for cooking when he decided to study the new Culinary Science option within the Horst Schulze School of Hospitality Management becoming among the first to graduate from Auburn University's College of Human Sciences with a degree in culinary science.

"First thing right off the bat would be go for it," Monistere said of advice he would give to prospective students looking at a hospitality management degree. "I took a chance and here I am four years later with a great job out of college. I still have that drive and passion for cooking food and presenting it but I took a chance and it's worked out really well so don't be afraid to take that chance right away."

Because Monistere graduated with his degree in the spring of 2023, he was able to experience the culinary science program from the very start where he made the transition from Spidle Hall, built in the early 1960's to the state-of-the-art Tony and Libba Rane Culinary Science Center that opened in the fall of 2022 for classes.

"Being one of the first few graduates was very interesting because we started out in Spidle Hall in what was the home economics kitchen and for the first three years of me actually in culinary that was what it was," Monistere said. "It was show up with the other seven or eight people who were in the program with Chef Ana Plana, who's one of my favorite professors I've ever had. It was small, but it felt like a family. Then when the Rane Center was built, we were super excited of course and walking around the building we felt a little bit of swagger because we were the most advanced culinary class out of about 98 students my senior year."

While at Auburn, Monistere attended a career fair where several representatives from Auberge Resorts Collection, a portfolio of extraordinary hotels, resorts, residences and private clubs in some of the world's most desirable destinations, were present and while talking with them, along with showcasing his experience within culinary science, he received a job offer after the career fair in October prior to graduation in the spring of 2023.

"Right now I'm working toward becoming an assistant food and beverage manager at Commodore Perry Estate in Austin, Texas that's part of Auberge Resorts Collection," Monistere said. "People in kitchens and other managers ask me where I went to school or where I went to culinary school and I always say Auburn. Usually their response is, 'What?' Because it's normally Johnson & Wales and stuff like that so I think it's really cool, especially for the SEC. I was a cheerleader so I'm a huge sports fan but it's so cool an SEC school has a big hospitality reputation that we are building here and other hospitality companies around the world see that."

Working in the Manager in Development Program at the Commodore Perry Estate, Monistere is getting extensive hands-on experience equipping him to work in a number of different positions in the hospitality sector.

"In the Manager Development Program they have different positions within each hotel so right now I share 25 or so MDP's all around Auberge and a good four or five of those are Auburn graduates or were at Auburn for an internship," Monistere said. "They pick from the cream of the crop in hospitality so the names you see up there represent organizations that have really good hospitality programs and that shows Auburn has some weight. It feels like Auburn is a brand new hospitality management program."

Down the road, Monistere said he has aspirations to land a leadership role and become the youngest general manager in Auberge history, a goal he says exists today only because of his Hospitality Management degree from Auburn University.

"It's awesome that Auburn has taken the meaning behind family and how we treat people and they are teaching that in hospitality which is cool," Monistere said. "It's just great for the new students that'll be joining the program in the future."

For more information on the Horst Schulze School of Hospitality Management in the College of Human Sciences, visit humsci.auburn.edu/hospe.